Aftermarket
Aftermarket parts for construction, earth moving and mining equipment

Premium quality at reasonable price!

Wide variety of aftermarket parts for backhoe loaders CAT, VOLVO, JCB, CASE, New Holland TEREX FERMEC, ATLAS
Hydraulic pumps, engine parts, axle parts, frames ect.
Pins and bushes for various earth moving and mining equipment.
Extremely wide aftermarket production list for Volvo, DOOSAN, Daewoo, CASE, Volvo, CAT, Komatsu wheel loaders. Parts are made in USA or Europe. Pins, bushes, seals, links, lift arms, elbows, rocker arms, shafts, bellcranks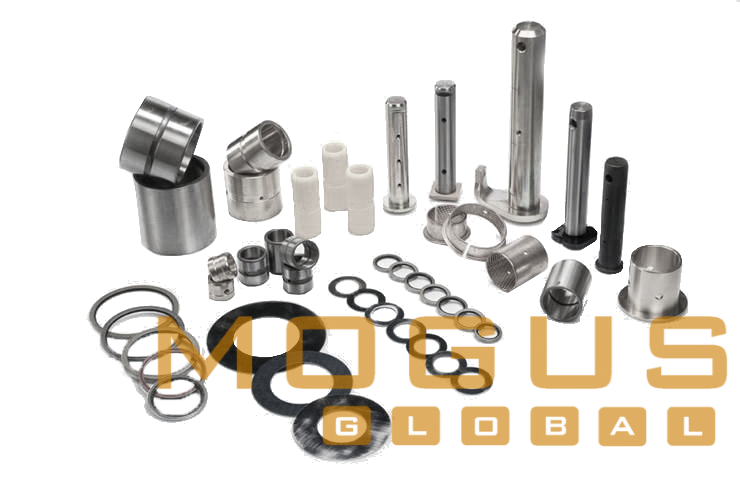 All manufacturers names, symbols and descriptions are used for reference purpose only and does not imply that any part listed is the product of these manufacturers.
3008018 ABSORBER, SHOCK
3975388 ACTUATOR, THROTTLE
3655172 ADAPTER
3655714 ADAPTER
553044 ADAPTER
207096 ADAPTER, CRANKSHAFT
207136 ADAPTER, CRANKSHAFT
3003694 ADAPTER, CRANKSHAFT
3031736 ADAPTER, CRANKSHAFT
3069776 ADAPTER, CRANKSHAFT
3165503 ADAPTER, CRANKSHAFT
3165632 ADAPTER, CRANKSHAFT
3203694 ADAPTER, CRANKSHAFT
3251635 ADAPTER, CRANKSHAFT
3253280 ADAPTER, CRANKSHAFT
3287193 ADAPTER, CRANKSHAFT
3328726 ADAPTER, CRANKSHAFT
3820511 ADAPTER, CRANKSHAFT
3902573 ADAPTER, CRANKSHAFT
3906806 ADAPTER, CRANKSHAFT
3907612 ADAPTER, CRANKSHAFT
3914121 ADAPTER, CRANKSHAFT
3919588 ADAPTER, CRANKSHAFT
3923882 ADAPTER, CRANKSHAFT
3933549 ADAPTER, CRANKSHAFT
3939088 ADAPTER, CRANKSHAFT
3943953 ADAPTER, CRANKSHAFT
3944832 ADAPTER, CRANKSHAFT
3945064 ADAPTER, CRANKSHAFT
3960058 ADAPTER, CRANKSHAFT
4913942 ADAPTER, CRANKSHAFT
4948038 ADAPTER, CRANKSHAFT
4991825 ADAPTER, CRANKSHAFT
186918 ADAPTER, EXHAUST MANIFOLD
203191 ADAPTER, EXHAUST MANIFOLD
119904 ADAPTER, EXHAUST OUTLET
151936 ADAPTER, EXHAUST OUTLET
200759 ADAPTER, EXHAUST OUTLET
3999839 ADAPTER, EXHAUST OUTLET
3999840 ADAPTER, EXHAUST OUTLET
4061090 ADAPTER, FAN
4931798 ADAPTER, FAN
4931800 ADAPTER, FAN
3903845 ADAPTER, FILTER HEAD
3925955 ADAPTER, FILTER HEAD
206963 ADAPTER, FILTER HEAD
215416 ADAPTER, FILTER HEAD
217568 ADAPTER, FILTER HEAD
3010635 ADAPTER, FILTER HEAD
3027733 ADAPTER, FILTER HEAD
3034578 ADAPTER, FILTER HEAD
3200308 ADAPTER, FILTER HEAD
3627309 ADAPTER, FILTER HEAD
3899625 ADAPTER, FILTER HEAD
3955117 ADAPTER, FILTER HEAD
3959613 ADAPTER, FILTER HEAD
3976285 ADAPTER, FILTER HEAD
4061396 ADAPTER, FILTER HEAD
4930253 ADAPTER, FILTER HEAD
4943867 ADAPTER, FILTER HEAD
4944718 ADAPTER, FILTER HEAD
4980907 ADAPTER, FILTER HEAD
3287190 ADAPTER, FLY RING GEAR
4934351 ADAPTER, FLY RING GEAR
3165504 ADAPTER, FLYWHEEL
3044137 ADAPTER, FLYWHEEL RING GEAR
3165630 ADAPTER, FLYWHEEL RING GEAR
3253283 ADAPTER, FLYWHEEL RING GEAR
3253284 ADAPTER, FLYWHEEL RING GEAR
3685753 ADAPTER, FUEL CONNECTOR
3965268 ADAPTER, FUEL CONNECTOR
3992086 ADAPTER, FUEL CONNECTOR
3992087 ADAPTER, FUEL CONNECTOR
4928880 ADAPTER, FUEL CONNECTOR
4928881 ADAPTER, FUEL CONNECTOR
4936373 ADAPTER, FUEL CONNECTOR
4936374 ADAPTER, FUEL CONNECTOR
4941538 ADAPTER, FUEL CONNECTOR
4944763 ADAPTER, FUEL CONNECTOR
4944764 ADAPTER, FUEL CONNECTOR
4946649 ADAPTER, FUEL CONNECTOR
4946651 ADAPTER, FUEL CONNECTOR
4946653 ADAPTER, FUEL CONNECTOR
4983837 ADAPTER, FUEL CONNECTOR
3164044 ADAPTER, FUEL PRESSURE GAUGE
2830239 ADAPTER, FUEL PUMP
4891829 ADAPTER, FUEL PUMP
4892788 ADAPTER, FUEL PUMP
4893259 ADAPTER, FUEL PUMP
185139 ADAPTER, INJECTOR
205463 ADAPTER, INJECTOR
3000464 ADAPTER, INJECTOR
3011928 ADAPTER, INJECTOR
3023933 ADAPTER, INJECTOR
3023934 ADAPTER, INJECTOR
3042425 ADAPTER, INJECTOR
3064881 ADAPTER, INJECTOR
XY1004 ADAPTER, MUFFLER
XY1006 ADAPTER, MUFFLER
XY1008 ADAPTER, MUFFLER
XY1009 ADAPTER, MUFFLER
200946 ADAPTER, O RING
206454 ADAPTER, O RING
3008494 ADAPTER, O RING
3080401 ADAPTER, O RING
3640685 ADAPTER, O RING
3934648 ADAPTER, O RING
3069052 ADAPTER, OIL CONTROL
3070130 ADAPTER, OIL CONTROL
3160923 ADAPTER, OIL PAN
3007372 ADAPTER, OIL PAN
3039252 ADAPTER, OIL PAN
3040692 ADAPTER, OIL PAN
3046854 ADAPTER, OIL PAN
3202153 ADAPTER, OIL PAN
3418862 ADAPTER, OIL PAN
3630263 ADAPTER, OIL PAN
4897858 ADAPTER, OIL PAN
4897876 ADAPTER, OIL PAN
4938655 ADAPTER, OIL PAN
4938656 ADAPTER, OIL PAN
3202513 ADAPTER, OIL PAN
187317 ADAPTER, PLAIN
187368 ADAPTER, PLAIN
203749 ADAPTER, PLAIN
3280882 ADAPTER, PLAIN
3283233 ADAPTER, PLAIN
3913847 ADAPTER, PLAIN
S 912 C ADAPTER, PLAIN
180221 ADAPTER, PLAIN PIPE
3164491 ADAPTER, PRESSURE/VACUUM
3824645 ADAPTER, PRESSURE/VACUUM
3655811 ADAPTER, PULLEY
3820760 ADAPTER, REDUCING PIPE
3971130 ADAPTER, SENSOR
212639 ADAPTER, SPLINE
3025322 ADAPTER, SPLINE
207572 ADAPTER, TRANSMISSION
3165357 ADAPTER, TRANSMISSION
3165370 ADAPTER, TRANSMISSION
3655779 ADAPTER, TRANSMISSION
4060803 ADAPTER, TRANSMISSION
3910282 AFTERCOOLER
3919806 AFTERCOOLER
3028381 AFTERCOOLER
3031194 AFTERCOOLER
3045769 AFTERCOOLER
3165768 AFTERCOOLER
3655828 AFTERCOOLER
3801161 AFTERCOOLER
3801801 AFTERCOOLER
3819450 AFTERCOOLER
3821695 AFTERCOOLER
3900139 AFTERCOOLER
3903387 AFTERCOOLER
3903429 AFTERCOOLER
3904308 AFTERCOOLER
3907170 AFTERCOOLER
3907171 AFTERCOOLER
3910281 AFTERCOOLER
3914501 AFTERCOOLER
3914502 AFTERCOOLER
3919805 AFTERCOOLER
3924731 AFTERCOOLER
3924732 AFTERCOOLER
4061400 AFTERCOOLER
4913827 AFTERCOOLER
4941637 AFTERCOOLER
4941638 AFTERCOOLER
4931842 AID, STARTING
4937962 AID, STARTING
4941309 AID, STARTING
4934604 ALTERNATOR
5253001 ALTERNATOR
162205 ALTERNATOR
203176 ALTERNATOR
214169 ALTERNATOR
3000347 ALTERNATOR
3016627 ALTERNATOR
3072483 ALTERNATOR
3078115 ALTERNATOR
3165469 ALTERNATOR
3279327 ALTERNATOR
3282431 ALTERNATOR
3282516 ALTERNATOR
3282554 ALTERNATOR
3284392 ALTERNATOR
3400698 ALTERNATOR
3415351 ALTERNATOR
3415536 ALTERNATOR
3415564 ALTERNATOR
3415587 ALTERNATOR
3415609 ALTERNATOR
3415637 ALTERNATOR
3415691 ALTERNATOR
3679712 ALTERNATOR
3904073 ALTERNATOR
3906725 ALTERNATOR
3913790 ALTERNATOR
3920618 ALTERNATOR
3920678 ALTERNATOR
3928985 ALTERNATOR
3933715 ALTERNATOR
3935530 ALTERNATOR
3968274 ALTERNATOR
3970003 ALTERNATOR
3972042 ALTERNATOR
3972529 ALTERNATOR
3972730 ALTERNATOR
3972733 ALTERNATOR
3974511 ALTERNATOR
3979372 ALTERNATOR
3979568 ALTERNATOR
3999672 ALTERNATOR
4060811 ALTERNATOR
4060834 ALTERNATOR
4061007 ALTERNATOR
4078701 ALTERNATOR
4892318 ALTERNATOR
4892320 ALTERNATOR
4913552 ALTERNATOR
4913675 ALTERNATOR
4930794 ALTERNATOR
4932319 ALTERNATOR
4932950 ALTERNATOR
4933436 ALTERNATOR
4934903 ALTERNATOR
4935821 ALTERNATOR
4936809 ALTERNATOR
4936877 ALTERNATOR
4937007 ALTERNATOR
4937890 ALTERNATOR
4938300 ALTERNATOR
4938600 ALTERNATOR
4939018 ALTERNATOR
4940559 ALTERNATOR
4942002 ALTERNATOR
4944738 ALTERNATOR
4946255 ALTERNATOR
4959881 ALTERNATOR
4984043 ALTERNATOR
4988274 ALTERNATOR
4988377 ALTERNATOR
4990546 ALTERNATOR
5259578 ALTERNATOR
5260126 ALTERNATOR
4910285 ASSEMBLY, LUB OIL FILTER
3009014 ASSEMBLY, LUB OIL FILTER
AR-12046 ASSEMBLY, LUB OIL FILTER
3071732 ASSEMBLY, OIL CONNECTOR
3176363 ASSY, ROCKER LEVER
219065 BAFFLE, BREATHER
3902403 BAFFLE, BREATHER
3907586 BAFFLE, BREATHER
3960500 BAFFLE, BREATHER
3967524 BAFFLE, BREATHER
4898648 BAFFLE, BREATHER
207374 BAFFLE, OIL
3011266 BAFFLE, OIL PAN
3081060 BAFFLE, OIL PAN
3915763 BALANCER, ENGINE
3047962 BARREL
3165398 BEARING
3802074 BEARING
3967596 BEARING
111490 BEARING, BALL
115519 BEARING, BALL
154967 BEARING, BALL
190232 BEARING, BALL
3010150 BEARING, BALL
3017034 BEARING, BALL
3063246 BEARING, BALL
3077646 BEARING, BALL
3910739 BEARING, BALL
4061131 BEARING, BALL
4942086 BEARING, BALL
5255951 BEARING, BALL
S16052 BEARING, BALL
S16054 BEARING, BALL
S-1769 BEARING, BALL
101921 BEARING, CAMSHAFT THRUST
205167 BEARING, CAMSHAFT THRUST
3007971 BEARING, CAMSHAFT THRUST
3035230 BEARING, CAMSHAFT THRUST
70796 BEARING, CAMSHAFT THRUST
3901430 BEARING, CONNECTING ROD
3950661 BEARING, CONNECTING ROD
3969562 BEARING, CONNECTING ROD
205840 BEARING, CONNECTING ROD
205841 BEARING, CONNECTING ROD
205842 BEARING, CONNECTING ROD
205843 BEARING, CONNECTING ROD
206160 BEARING, CONNECTING ROD
206161 BEARING, CONNECTING ROD
206162 BEARING, CONNECTING ROD
206163 BEARING, CONNECTING ROD
214950 BEARING, CONNECTING ROD
214951 BEARING, CONNECTING ROD
214952 BEARING, CONNECTING ROD
214953 BEARING, CONNECTING ROD
3016760 BEARING, CONNECTING ROD
3021710 BEARING, CONNECTING ROD
3047390 BEARING, CONNECTING ROD
3047391 BEARING, CONNECTING ROD
3047392 BEARING, CONNECTING ROD
3047393 BEARING, CONNECTING ROD
3150011 BEARING, CONNECTING ROD
3150012 BEARING, CONNECTING ROD
3150013 BEARING, CONNECTING ROD
3150014 BEARING, CONNECTING ROD
3900405 BEARING, CONNECTING ROD
3901170 BEARING, CONNECTING ROD
3901171-4B BEARING, CONNECTING ROD
3901171-6B BEARING, CONNECTING ROD
3901172-4B BEARING, CONNECTING ROD
3901172-6B BEARING, CONNECTING ROD
3901173-4B BEARING, CONNECTING ROD
3901173-6B BEARING, CONNECTING ROD
3901174-4B BEARING, CONNECTING ROD
3901174-6B BEARING, CONNECTING ROD
3901231-4B BEARING, CONNECTING ROD
3901231-6B BEARING, CONNECTING ROD
3901232-4B BEARING, CONNECTING ROD
3901232-6B BEARING, CONNECTING ROD
3901233-4B BEARING, CONNECTING ROD
3901233-6B BEARING, CONNECTING ROD
3901234-6B BEARING, CONNECTING ROD
3901431 BEARING, CONNECTING ROD
3901432 BEARING, CONNECTING ROD
3901433 BEARING, CONNECTING ROD
3901434 BEARING, CONNECTING ROD
3901460 BEARING, CONNECTING ROD
3939859 BEARING, CONNECTING ROD
3950662 BEARING, CONNECTING ROD
3950663 BEARING, CONNECTING ROD
3950664 BEARING, CONNECTING ROD
3950665 BEARING, CONNECTING ROD
3966244 BEARING, CONNECTING ROD
3966245 BEARING, CONNECTING ROD
3966246 BEARING, CONNECTING ROD
3966247 BEARING, CONNECTING ROD
3966248 BEARING, CONNECTING ROD
3971970 BEARING, CONNECTING ROD
4089804 BEARING, CONNECTING ROD
4089806 BEARING, CONNECTING ROD
4089807 BEARING, CONNECTING ROD
4892794 BEARING, CONNECTING ROD
4893693 BEARING, CONNECTING ROD
4893695 BEARING, CONNECTING ROD
4893696 BEARING, CONNECTING ROD
4893697 BEARING, CONNECTING ROD
4893698 BEARING, CONNECTING ROD
4913830 BEARING, CONNECTING ROD
4960074 BEARING, CONNECTING ROD
4960075 BEARING, CONNECTING ROD
4975091 BEARING, CONNECTING ROD
4975092 BEARING, CONNECTING ROD
4089805 BEARING, CONNECTING ROD
3906230 BEARING, CRANKSHAFT THRUST
3906233 BEARING, CRANKSHAFT THRUST
3916830 BEARING, CRANKSHAFT THRUST
3926798 BEARING, CRANKSHAFT THRUST
3927772 BEARING, CRANKSHAFT THRUST
3944163 BEARING, CRANKSHAFT THRUST
3978822 BEARING, CRANKSHAFT THRUST
4934097 BEARING, CRANKSHAFT THRUST
3283065 BEARING, CRANKSHAFT THRUST
3283067 BEARING, CRANKSHAFT THRUST
3802542 BEARING, CRANKSHAFT THRUST
3802702 BEARING, CRANKSHAFT THRUST
3901140 BEARING, CRANKSHAFT THRUST
3901401 BEARING, CRANKSHAFT THRUST
3901402 BEARING, CRANKSHAFT THRUST
3901404 BEARING, CRANKSHAFT THRUST
3906231 BEARING, CRANKSHAFT THRUST
4955869 BEARING, CRANKSHAFT THRUST
4959774 BEARING, CRANKSHAFT THRUST
4974992 BEARING, CRANKSHAFT THRUST
4975282 BEARING, CRANKSHAFT THRUST
4975283 BEARING, CRANKSHAFT THRUST
3901400 BEARING, CRANKSHAFT THRUST
3925921 BEARING, CRANKSHAFT THRUST
3802543 BEARING, MAIN
3802703 BEARING, MAIN
3901143 BEARING, MAIN
3901153 BEARING, MAIN
3925924 BEARING, MAIN
3927775 BEARING, MAIN
4938939 BEARING, MAIN
205141 BEARING, MAIN
205151 BEARING, MAIN
205161 BEARING, MAIN
205171 BEARING, MAIN
3019198 BEARING, MAIN
3901090 BEARING, MAIN
3901590 BEARING, MAIN
3916840 BEARING, MAIN
3929016 BEARING, MAIN
3929024 BEARING, MAIN
3944153 BEARING, MAIN